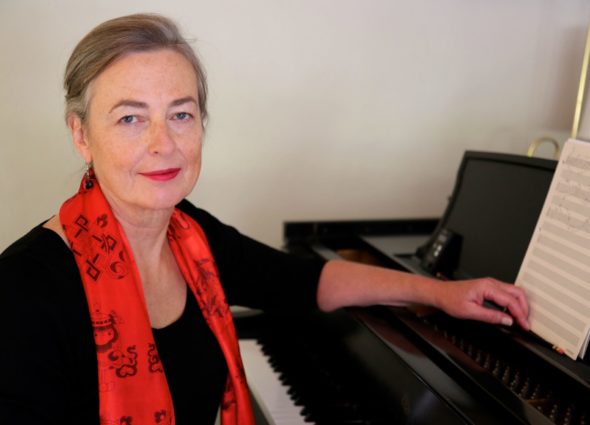 Monica (Niki) Houghton was born in Bennington, Vermont and grew up in Reno, Nevada. She holds A.B. and A.M. degrees from Harvard University in Chinese Language and Literature and East Asian Studies, and an M.M. in Composition from the Cleveland Institute of Music. She was an active member of the Cleveland Composers Guild and served on the CIM faculty and as Instructor for the Joint Music Program with Case Western Reserve University for nine years before moving back to Nevada in 2011.
Ms. Houghton received the Thanatopolis Music Prize from the iPark Foundation in 2010 for her work "Quase um Soneto," an Individual Excellence Award in 2007 from the Ohio Arts Council, and the Composer of the Year Commission for 2007 from the Ohio Music Teachers Association. Her works for large ensemble have been performed by the CIM Orchestra, University Circle Wind Ensemble, Contemporary Youth Orchestra, Heights Chamber Orchestra, Lake Superior Chamber Orchestra, and the Cleveland Chamber Symphony.
Among the distinguished ensembles who have commissioned, performed and/or recorded her chamber works are the Argenta Trio, Cleveland Duo and James Umble, Cleveland Chamber Collective, Fireworks Ensemble, Oberlin Percussion Group, and Panoramicos. Ms Houghton appreciates and draws inspiration from live performances by living performers. She has composed solo instrumental works for piano, organ, viola, tuba and guitar, and especially enjoys composing for the human voice.
Houghton works have been performed at festivals around the country and the world, including AKI Festival of New Music, Ernest Bloch Festival, Oregon Bach Festival, Virginia Arts Festival, and Shanghai Spring International Music Festival, and presented in collaboration with the Cleveland Classical Guitar Society, the Cleveland Flute Society, the Nevada Museum of Art, and the Poets and Writers League of Greater Cleveland.
Ms. Houghton's music has been described as "evocative" and "full of feeling." She has incorporated non-Western instruments and musical practices into several of her compositions. A glance at her catalog reveals a wide range of influences inspiring her works, including nature, poetry, the visual arts, language, science and world events. In addition to her concert music Monica Houghton is the composer and co-librettist of an opera The Big Bonanza which won the New Music New England Concert Award from Boston Metro Opera in 2010 and was premiered by the Nevada Chamber Opera in April 2016.