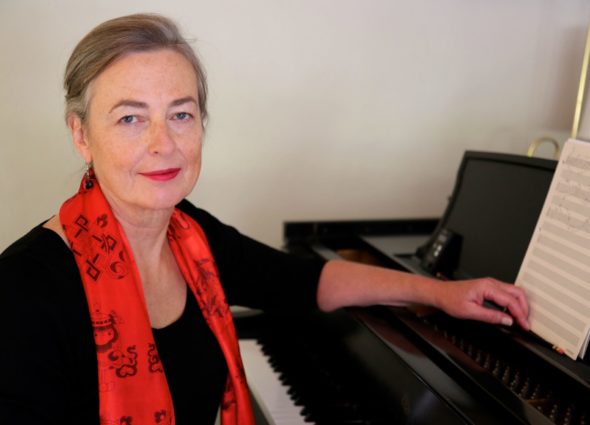 Monica (Niki) Houghton was born in Bennington, Vermont and grew up in Reno, Nevada. She holds A.B. and A.M. degrees from Harvard University in Chinese Language and Literature and East Asian Studies, and an M.M. in Composition from the Cleveland Institute of Music. She served on the CIM faculty and as Instructor for the Joint Music Program with Case Western Reserve University for nine years before moving back to Nevada in 2011.
Ms. Houghton received an Individual Excellence Award from the Ohio Arts Council and the Composer of the Year Commission from the Ohio Music Teachers Association in 2007. She was also awarded the Thanatopolis Music Prize from the iPark Foundation in 2010 for her work "Quase um Soneto."
Among the distinguished artists and ensembles who have commissioned, performed and/or recorded her music are the Argenta Trio, Cleveland Duo and James Umble, Cleveland Chamber Collective, Cleveland Chamber Symphony, CIM Orchestra, Contemporary Youth Orchestra, Fireworks Ensemble, Oberlin Percussion Group, Panoramicos, cellist Dmitri Atapine, guitarists Stephen Aron and Don Better, hornist Richard King, organists Philip Manwell, Karel Paukert and Todd Wilson; pianists Martin Amlin, Christopher Atzinger, Eric Charnofsky, Halida Dinova, Diana Fanning, Hyeyeon Park, Tuyen Tonnu and James Winn; violists Dustin Budish, Michelle LaCourse, Joanna Patterson, Lynne Ramsey and Jin Yu; and vocalists Kimberly Lauritsen, Patrick Mason, Andrea Wells and Andrew White.
Houghton works have been performed at festivals around the country and the world, including AKI Festival of New Music, Ernest Bloch Festival, Oregon Bach Festival, Virginia Arts Festival, and Shanghai Spring International Music Festival.
Ms. Houghton's music has been described as "evocative" and "full of feeling." She has composed for non-Western instruments and collaborated with living artists and poets. In addition to her concert music she composed an opera entitled The Big Bonanza which won the Boston Metro Opera 2010 New Music New England Concert Award.