Recording by Adam Snider, tuba.
Performances
Premiere: Brian Kiser, for the Cleveland Composers Guild, Guzetta Hall, University of Akron, April 10, 2006
Andrew Welborn, Kulas Hall, Cleveland Institute of Music, May 19, 2007
Adam Snider, L-CUBED, Frank & Joan Randall Rotunda, Mathewson-IGT Knowledge Center, University of Nevada, Reno, November 2, 2016
Program Note
While in Duluth for a performance of one of my orchestral works, I went exploring along the shore of Lake Superior. I was seated on a rocky ledge at the shore, the deep blue water was glittering in the sun light, when suddenly my imagination was seized by the feeling of a long arm reaching out of the water toward me, as if to pull me in! This experience made a big impression on me. A few days later, I did some searching on the internet and discovered that the Ojibway people have told stories for many years about a creature named Mishi Peshu, the water panther. This creature is even depicted in petroglyphs along the shore.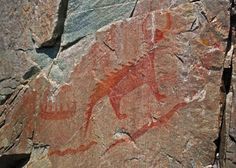 Perhaps I had an encounter with this creature of the mythical realm — or perhaps it was some unknown magnetic effect emanating from the Iron Mountains nearby. In any case, I had been wishing to write a piece for solo tuba for some time. So this is my story of how the piece "Mishi Peshu: Vision at Big Water" came to be written.